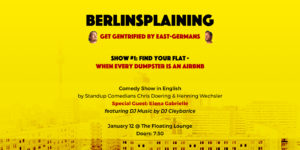 Show #1: Finding a flat – when every dumpster is an AirBnB
In our pilot show #1, let us lecture you about why you haven't found that perfect place to rent, yet. You may or may not walk out of this workshop with a wealth of knowledge on how to become a real Berliner.
For entertainment purposes our special guest is comedian Ty Rone (California/USA) and, for some Berlin "exposure", try-hard DJ Cleybarice (Plauen).
Doors open at 7:30pm, Show at 8pm entry € 12 (Early-Bird is € 10).
Tickets only via Eventbrite or at the door.
https://www.eventbrite.de/e/berlinsplaining-get-gentrified-by-east-germans-tickets-41190514939